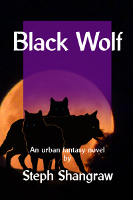 So what happens if you feel like you belong nowhere… then find out you do belong somewhere… and that place should be impossible? There's no such thing as magic or werewolves, especially only a few hundred miles north of Toronto, right? And what could be in Jesse's missing past that would make him fit in there?
A contemporary fantasy novel about finding home
Jesse's been having a tough time at home with his adopted parents, and even life on the streets, with the one friend he trusts, has more appeal. During a particularly bad moment, he finds himself some way north of the city he lives in, and things just keep getting stranger from there: Haven, the village he stumbles over, is not only primarily pagan, but a substantial percentage of the population can do insane things. Like manipulating light into doorways linking places, or fixing injuries with a touch, or changing into wolves.
The early part of his life has been a blank to him as long as he can remember, but the more time he spends in Haven, the more hints there are that a place like this is where he belongs. But how did he come to be alone several years before, with no memory? Is there unfinished business lurking in his past that can come back to haunt him in his new life? And how much danger are his Haven friends in because of him?
Very much an Ugly Duckling tale. Only with fewer ducks. 
Okay, just a heads up: I rewrote a single chapter early in the novel (Chapter 6). The correct version should be on both sites.
Find it on: Smashwords and various ebook software platforms!
Find it on Scribble Hub!
Everything I write is available for free, even though I have devoted immense amounts of time over the years to my skills and to each individual work. I know myself, and if I start writing for pay, it will stop being fun. What I do ask, however, is that you please let me know. Drop a comment or a private message on Scribble Hub (I'm rarely on Royal Road), email me (I hate spam too and would never share addresses!), or look me up on Discord or Bluesky. There's contact info on the About the Author page. Interaction with readers isn't what keeps me writing, but it does keep me completing, polishing, and releasing stories, so I'm very grateful for every bit!
Original ebook release: 31 Oct 2014